Cargo Magazine can suck it.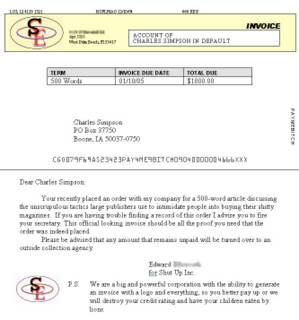 So I get an "invoice" in the mail from
Cargo Magazine
, saying that my account is past due. The funny thing is I never ordered a subscription to Cargo Magazine. I've seen this trick many times before, but this time they were rather nasty about the whole business. The invoice threatened to send my account to a collection agency. Here's the text of their letter:
Dear Edward:

Your past due account has been forwarded to my attention. Please be advised that any account that remains unpaid is turned over to an outside collection agency, and the account-holder's delinquent status will stay in effect.

If you have paid, please enclose a copy of your check, showing our endorsement and deposit number.

If not, remit payment immediately or log onto www.pay.cargomag.com

Charles Simpson
for CARGO

P.S. Once payment is received, we will send your

FREE GIFT!
Oh you're going to send a collection agency after my ass over a lousy 10 dollars for a magazine I never asked for and never received? Go for it fuck nut. My credit has been in the toilet for the past 4 years anyway, so even if they did try something so stupid, I really wouldn't care.
I was going to just write them a nasty letter telling them that I don't want anything to do with their bullshit advertisements disguised as "articles", or any of their slick pop culture bullshit. But then I had a better idea. I decided to send an invoice to them, demanding that they pay me for my freelance writing services. It's a little tough to read in the screenshot, so here's the text of the letter:
Dear Charles Simpson:

You recently placed an order with my company for a 500-word article discussing the unscrupulous tactics large publishers use to intimidate people into buying their shitty magazines. If you are having trouble finding a record of this order I advise you to fire your secretary. This official looking invoice should be all the proof you need that the order was indeed placed.

Please be advised that any amount that remains unpaid will be turned over to an outside collection agency.

Edward
for Shut Up Inc

P.S. We are a big and powerful corporation with the ability to generate an invoice with a logo and everything, so you better pay up or we will destroy your credit rating and have your children eaten by lions.

I only hope they are stupid enough to send me the money.